You may or may not be more 'in the mood,' than usual, and that's normal at this stage in pregnancy. Some women feel very sexy and enjoy relations while others want nothing to do with sex.

If you are one that falls into the interested category, you don't have to worry that sex will harm your unborn child. As long as your pregnancy is progressing normally intercourse is perfectly healthy and normal.

Sexual intercourse isn't harmful to your baby because he or she is protected by the placenta and your cervix is plugged with mucus to keep foreign materials at bay. In fact, you'll be able to continue with sexual intercourse right up until you give birth, as long as your baby is healthy and you're not experiencing complications.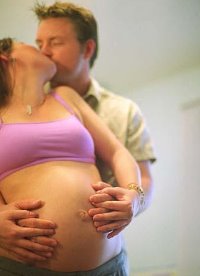 Is There Anything To Avoid Doing During Sex?
You'll want to avoid having air forced into your vagina, such as during oral sex. This can cause a blood vessel to be blocked by an air bubble, which could be potentially fatal to you or your baby, or both. You'll also want to avoid the Jacuzzi for the same reason.
Also, you'll want to avoid relations with anyone with a questionable sexual history, such as being free of sexually transmitted diseases (STD.) Contracting a STD during pregnancy is very harmful to your unborn child, who can contract the disease.
When Should Sex Be Avoided?
If you've had previous miscarriages
If you're bleeding from your vagina
Experiencing cramping or unexplained discharge, or are leaking amniotic fluid
If you have placenta previa, when the placenta covers the cervix
If your cervix is dilating prematurely (incompetent cervix)
If you're at all uneasy or unsure, ask your doctor before continuing sexual relations with your partner.
If You're Not Feeling Sexy…
Not everyone feels like being intimate during pregnancy, be it from fatigue, a change in body size or image, or whatever else. Make sure you keep an open dialogue with your partner, and explain your feelings. You may find just as much comfort in cuddling, kissing and holding each other, which is important in a healthy relationship.